With our live, virtual classes, no matter where you are on the globe you can now access award winning, educational classes for your child from the comfort and safety of your home!
My son loves coming to music with Ms Diana. It is helping his development come along in leaps and bounds. Now that the world has seamingly stopped for him, it is great that we can keep up the routine with online classes. Diana does an amazing job and has found great ways to interact with the kids. We love the classes and my son askes for them every time I go near the computer.

Kindermusik Dad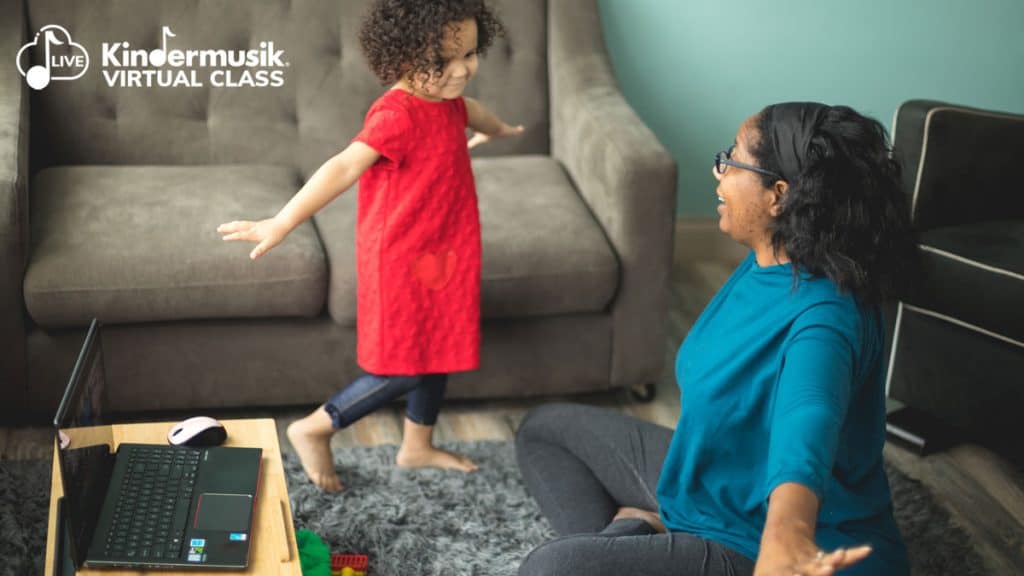 Imagine your child soaring like an eagle, fluttering like a butterfly or scowling like Rupert, the pirate. Imagine dancing with your baby, exploring and expanding the bond your already have with them.
Our live Kindermusik classes using the Zoom platform allow you and your child to interact with other parents and kids. Because we are live, we can integrate your child's suggestions, observe and comment on their skills and delight in the smiles and hugs right along with you!
You are welcome to come to more than 1 class in the week. There are many opportunities to participate. Many of our students have been coming every day, or just once a week, it is all about choice.
Our digital home resources give you the tools for every day activities, child development information and things to do at home. You will have all the music we have in class, stories, videos, activities and more.
The community we build will give you the support network you need as a parent, no matter how remote you are. You will never have to drive anywhere, don't have to get dressed up, and can participate in your own way, all from the comfort of your own home. If you are sick, you don't have to miss class and if your baby falls asleep, you can pop them to bed without them waking on the way home in the car.
PRICING:
$185 for a 9 week term of unlimited classes ($85 per month/4 lessons)
TIMETABLE
Age Group
Monday
Tuesday
Wednesday
Thursday
0 – 1 years
11:30am
9:30am (all ages)


10:15am
1 – 2 years


9:30am (all ages)

10:15am
9:30am
2 – 3 years
9:30am
9:30am (all ages)





3 – 5 years


9:30am (all ages)

9:30am


You are welcome to come to a class of a different age and participate in your own way, but the class will be taught to that age group. You can also attend as many sessions in the week as you would like to but if numbers get too big, preference will be given to those booked into that class. If you wish to come to more classes than 1 in a week, Diana can direct you to the best timetable for your child.
NEW THEMES (From 25th May)
Join Anytime!
Following are the units we will be doing ffor the next 4 weeks from 25th May. Each set of digital resources will include:
1 x Ebook
Mp3 music
Videos
Activities and games
Child development information
Baby Themes (0 – 1 years)
Bluebird Bluebird
A beautiful book of birds and poems. Great for bird names, colours and sounds.
Toddlers Themes (1 – 2 years)
Hello Day
A delightful story about Pete and his dog PJ who take a bath. This story has a refrain that we use on every page as we swish our hands.
Bigger Kids (2 – 3 years)
How Do You Feel?
Explore things that make people feel happy, sad, surprised, angry and loved through a story and songs. Dance to happy music, stomp angry little feet, and jump with surprise.
Kindy Kid Themes (3 – 5 years)
Home Sweet Home
Includes A House is a House for Me, a story which describes types of houses used by many different animals and insects such as an ant, a bee, a mole, or a mouse.