With our live, virtual Kindermusik classes, no matter where you are on the globe you can now access award winning, educational classes for your child from the comfort and safety of your home!
My son loves coming to music with Ms Diana. It is helping his development come along in leaps and bounds. Now that the world has seamingly stopped for him, it is great that we can keep up the routine with online classes. Diana does an amazing job and has found great ways to interact with the kids. We love the classes and my son askes for them every time I go near the computer.

Kindermusik Dad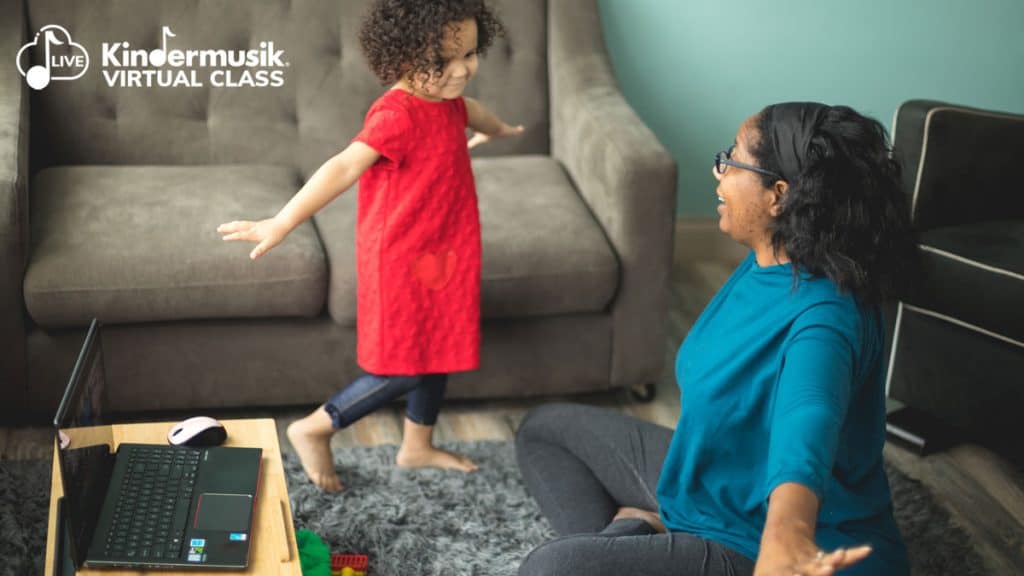 Imagine your child soaring like an eagle, fluttering like a butterfly or scowling like Rupert, the pirate. Imagine dancing with your baby, exploring and expanding the bond your already have with them.
Our live Kindermusik classes using the Zoom platform allow you and your child to interact with their educator, other parents and kids. Because we are live, we can integrate your child's suggestions, observe and comment on their skills and delight in the smiles and hugs right along with you!
Our digital home resources give you the tools for every day activities, child development information and things to do at home. You will have all the music we have in class, stories, videos, activities and more.
The community we build will give you the support network you need as a parent, no matter how remote you are. You will never have to drive anywhere, don't have to get dressed up, and can participate in your own way, all from the comfort of your own home. If you are sick, you don't have to miss class and if your baby falls asleep, you can pop them to bed without them waking on the way home in the car.
PRICING:
$185 for a 9 week term of unlimited classes ($85 per month/4 lessons)
If there is not a time that suits, please contact us as we are opening new days and times depending on student's needs.
TIMETABLE
Age Group
Monday
Tuesday
Wednesday
Thursday
Pregnant Mums
TBA
TBA
Newborns
11:00am
Multiage 0 – 5 yrs

1 – 3 years

10:00am




Multiage 0 – 5 yrs
3 – 5 years
9:00am



Multiage 0 – 5 yrs


Piano Tuition
Booked Out
Waiting List
2 vacancies

Booked Out
Waiting List
5 vacancies

NEW THEMES EVERY 4 WEEKS
Join Anytime!
Every 4 weeks you will receive another set of digital home materials to accompany your music journey. They include:
Rhymes, stories and listening excerpts
Award winning music
Finger plays and dance and movement games
Recipes and craft activities
Parent information and educational insights
Printable lyrics, activity pages and class story